Can

Bayport Sell My Boat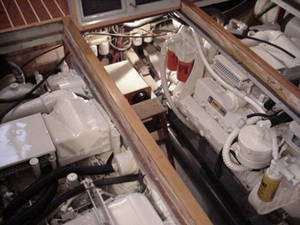 Bayport Yachts cannot predict when a boat will sell, but we can help you sell it faster. Clean boats are always in high demand. There are two main categories by which a buyer will judge your boat:
Cosmetics and Mechanics
Please consider these suggestions:
Engines and Mechanical
1. All mechanicals and systems should be in working order. Some owners tend to ignore small repairs or tolerate items not operating properly. They might not care, but a prospective buyer will. Everything has to work.
2. Ensure that all gauges and alarms function properly.
3. Replace cracked hoses and corroded clamps.
4. Clean out raw water sea strainers.
5. Change oil and fuel filters.
6. Have the boat fully fueled and ready for a thorough sea trial on short notice. This will also diminish condensation in the fuel tanks if your boat is on brokerage during the winter. Make arrangements to have the bottom and running gear cleaned by a diver before sea trial and survey.
7. Prepare a list of spare parts and extra equipment, such as props, shafts and filters and note their location.
8. Gather all manuals and paperwork for electronics and mechanical systems. Have them onboard and readily available in a binder or accordion file. Have maintenance records likewise organized and handy.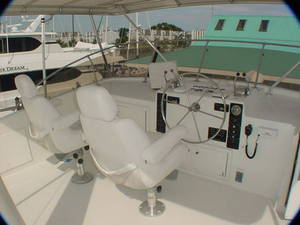 Cleaning and Cosmetics
1. All exterior surfaces should be clean and shiny. Fiberglass and metal should sparkle. Don't forget windows, and especially portlights and hatches.
2. Paint the bottom and put a fresh coat of varnish or Cetol on all brightwork.
3. Enclosures and canvas should be in good shape. Damaged goods should be repaired, replaced or removed.
4. Clean dirty shore power cables, and take a good look at the condition of your dock lines.
5. Shampoo the carpet, or replace if necessary. Have the draperies and bunk covers cleaned.
6. Clear out all unnecessary clutter and gear. If it's not intended to convey, remove it.
7. Clean out drawers and lockers. Place a scented clothes dryer sheet in the lockers and remove stale odors. Remove old spices, canned goods, liquor, paper plates, cups, koozies, napkins and the like. If in doubt, throw it out!
8. Clean oven, burner top, microwave and refrigerator/freezer.
9. Pump out and add treatment to the holding tank.
10. Pump out the shower sump to eliminate the sour water smell.
11. The bilge must be spotless. Use oil-zorb pads under machinery. Clean, prime and paint the engines and generator.
12. Clean out any debris in hatch openings and deck drains.